Our Wedding Video Packages
Our Wedding Video Packages
Our Wedding Video Packages
THE BASICS
2 Filmmakers

Full Coverage of Ceremony + Reception Formalities (Introductions, Toasts, Cake Cutting, etc.)

No Wedding Film



Coverage times are wedding dependent

Deliverables sent within 1 week
Starting at $2,000
THE GLAM FAM DISCOUNT
2 Filmmakers

A 3-5 minute Wedding Highlight

Full Coverage of Ceremony + Reception Formalities (Introductions, Toasts, Cake Cutting, etc.)

Coverage times are wedding dependent

No formal interviews
Starting at $3,500
THE GLAM CAM SQUAD
2 Filmmakers

A 6-9 minute Wedding Film

Full Coverage of Ceremony + Reception Formalities (Introductions, Toasts, Cake Cutting, etc.)

Starts at a minimum of 7 hrs of coverage

Sound bytes from the day
Starting at $4,500
A GLAM TIE FEATURE
2 Filmmakers

A 10-13 minute Wedding Film

Full Coverage of Ceremony + Reception Formalities (Introductions, Toasts, Cake Cutting, etc.)

Starts at a minimum of 8 hrs of coverage

Sound bytes + Formal Interviews
Starting at $5,500
V.I.P. GLAM TIER EXPERIENCE
V.I.P. GLAM TIER EXPERIENCE
2 Filmmakers + 1 Assistant


A 15-25 minute Wedding Documentary

Full Coverage of Ceremony + Reception Formalities (Introductions, Toasts, Cake Cutting, etc.)


Starts at a minimum of 10 hours of coverage (includes multiple dates)

Sound bytes + Formal Interviews
Starting at $7,000
DESTINATION WEDDINGS
2-3 Filmmakers + 1 Assistant
Any Wedding Package of your choice
Full Coverage of Ceremony + Reception Formalities (Introductions, Toasts, Cake Cutting, etc.)
Coverage times are wedding depedent
Travel Expenses + Rooming Expenses not included
Contact us for a Custom Quote
LET US TELL YOUR LOVE STORY!
LET US TELL YOUR LOVE STORY!
No two love stories are alike. That's why Glam Tie Media is committed to making each and every Wedding Film
unique! We provide a talented, passionate crew trained to capture every beautiful detail of your special day –
Bringing you a high quality timeless product that you can treasure forever!
What our Couples are saying:
No need to look any further for a wedding videographer! Right from the start Jordan reached out to us to go over all of the details and discuss the events of the day we wanted captured. On wedding day, the crew could not have been better- they showed up right on time, fit in seamlessly with our wedding party, and knew exactly what to do to get the best shots! The turnaround time to get our video was lightning fast and the video itself was SPECTACULAR! One thing that set GTM apart was the use of interviews which we felt added a nice personal touch. Their drone footage was also next level! Overall we could not be happier with the quality and content of our video, it is something we will truly cherish forever.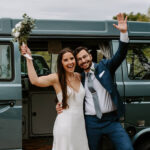 Alyse C.
We may have set a record for the amount of times we have watched our wedding video since we got it! It was more than we could have ever wanted. Jordan and his team are amazing! When looking for a videographer we wanted something different then just the traditional video of photos. We wanted to capture the day as if it was told by our friends and family. After watching one Glam Tie Media wedding film I was sold. The way they conduct the interviews and then snapshot a video to reflect what was just said was perfect. Greg and I now have a video that captures interviews with our grandparents, friends and family that we can look back for ever. Jordan and his team were so fun to work with. They kept up with the craziness of the bridal party and made sure to show it in the film!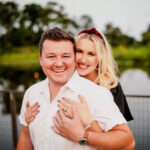 Callie C.
Jordan was amazing to work with, and provided such a perfect product! They were responsive, understanding, and fun! My whole family raved about how friendly Jordan was. Our wedding video was exactly what we wanted!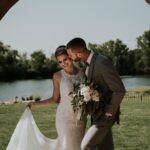 Kailey M.
Jordan at Glam Tie Media is incredible! He is a kind, caring person who makes you feel comfortable behind the camera! He did my wedding video and the video turned out to be more than I could have ever dreamt of! Jordan is a fun loving, friendly person who you cannot help but love having him around and excited for your special day! I look back at the video about every 2-3 months and find something new and fun in it! The best part about his editing is that he included many personal interviews with parents/bridal party/ and my husband and I, this way it is a more personal and emotional experience. I could not do anything but RAVE about how incredible Glam Tie Media is! Jordan will not disappoint! (I also flew him from Chicago to Akron, Ohio to have him do my video!)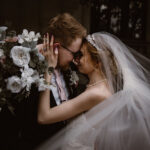 Madison A.
Glam Tie Media really pays attention to what you want in a video. Jordan takes the time to listen to what you want in your video and tells your story. He is a professional in his work and always has a smile. He is a pleasure and fun and easy to work with. I am very happy with my video. Exceptional quality and easy to watch over and over again.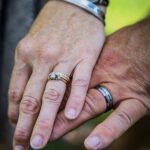 Marjorie B.